- Diamond Platnumz has finally accepted responsibility for Hamisa Mobetto's son, Abdul Naseeb
- Diamond admitted that he has been in an illicit affair with Hamisa for years now and that he is Abdhul's biological father
- The singer had disowned his son severally in public, even wrote diss songs about how he will not be forced to into accepting a son that is not his
- He also issued an apology to his partner Zari Hassan, and his children for causing them pain and heartache
Blood is thicker than water-The old adage was recently brought to life by popular Tanzanian star, Diamond Platnumz after he finally admitted to be the biological father Hamissa Mobetto's son, Abdhul Naseeb.
Speaking in a candid interview with Tanzania's Clouds FM on Tuesday, September 19.
The Utanipenda' hit maker finally admitted that he is the father to Abdhul Naseeb (Hamisa's son), even though he has been distancing himself from both Hamisa and the baby.
According to the singer, he had an agreement with Hamisa Mobetto that would see their relationship and baby remain a big secret, but the lass went against it by revealing everything on social media.
READ ALSO: Davido is making Nigeria proud, but he will regret having baby mamas - Eedris Abdulkareem
Diamond said it was aimed at protecting his marriage with the mother of his other kids, Zari Hassan.
"After the time left, I continued with my life and until I started my relationship with Zari. Satan crossed me and we started to have social connections until @hamisamobetto got pregnant. I told him I was a Father with my family. It's got this thing left between me and you. I did not like abortion, it was my blood and everyday life that I went to God I had given him use." Diamond revealed.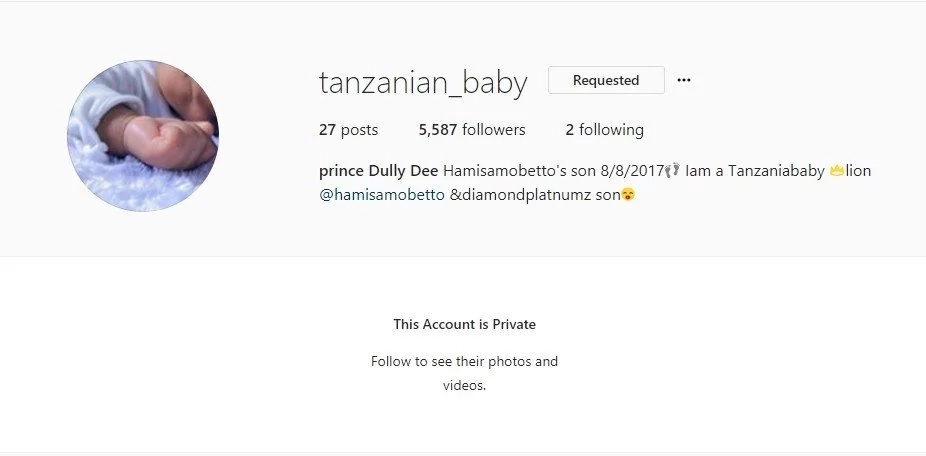 READ ALSO: Baby mama rains curse on Nollywood actor for remarrying in a fancy wedding
Being a responsible man,Diamond also used the opportunity to seek forgiveness from his wife Zari Hassan and their children.
"Most of today I want to ask him to kiss my wife @ZariTheBosslady and my children for the wrong I did."
It should be noted that Diamond has been attacking Hamisa,even through diss songs claiming that he is not the father of her baby.
Diamond has also disowned Hamisa and her son openly on social media and other platforms.
READ ALSO: Hushpuppi celebrates daughter's birthday in Dubai, shows off alleged babymama (photos)
However,the singer revealed that he has been taking care of his 'side chick ', Hamisa from the time she told him about her pregnancy.
"Before she gave birth I bought her a new Rav 4 I did not like to have fun with the baby. And I was giving him a sum of $ 5 shillings a week. "(Before she delivered, I bought her a RAV4 because I did not want her to suffer with our son.I was also sending her TSh500,000 for upkeep every week , " Diamond added.
In short, Diamond admitted to all the rumours that have been flying around about his involvement with Hamisa.
"Baby before birth I gave tons of dollars. 7 and 5, and I took her to the Private Hospital for birth. When I was in Britain I asked my mother to go to the hospital to look at the baby, but the woman called the writers and went to record and disgrace my mother."
PAY ATTENTION: Download NAIJ.com mobile app
Diamond's confession comes after a stretch of battles between Diamond Platnumz, his wife Zari Hassan and Hamisa Mobetto.
In conclusion, the singer said that he never wanted to disown his child, only that social media users spread propagandas and mixed up the whole situation.
"When I returned from England I went to see my son and stayed with him very much. There was no time at all that I created a scenario for rejecting a child. I'm surprised to see on the networks say I have rejected the child. What I did not want was to make sure my wife Zari was not supposed to be guilty of anything wrong." Diamond said.
Would you marry a baby mama or 'papa'? Find out what Nigerians are saying on NAIJ.com Tv
Source: Naija.ng