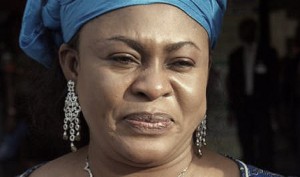 Touching signs of the nation's mourning over the ill-fated Dana airplane continue, keeping other things in the background. Nigerians are mourning.
They are struck by the loss of lives and the shared consequences of their implications for many families, in a country without a social scheme or pensions that work.
What is the fate of the families? What happens to children whose lives the incident would drastically change? There is no way of telling the stories in full. The circumstances are varied, the outcomes will also vary.
Particularly sobering was the delivery of the Minister of Aviation Stella Oduah. Dressed in striking black, without make up, without jewelries, with genuine tears streaming down her cheeks, she aptly captured the nation's descent to sadness on a day another 20 lost their lives in a suicide bombing in a Bauchi church.
It was a rare display of pity touch with the shredded hearts of families. The mourning this season has been on going. Disasters on the highways are taking lives daily, bombings, robberies and other indicators of insecurity keep a nation burdened by tragedies reminded about dismal safety levels and mounting insecurity.
The nation mourns. Promises of "never again" are being mouthed with glibness. More value is placed on appropriateness of messages rather than capacities that will deliver the promises. We have gone through those paths before.
Nigerians are mourning deficits of infrastructure. They are sad that in 2012 avoidable disasters rule the nation. They would have wanted things differently; they would have wanted their country to be known for better things, not the negative stories that ruin the land.
The sadness is over uncertainties that have become our lives. One disaster or the other awaits us because of years of neglecting the fabrics on which to build a nation. The mourning is for the living whose future is twined with a backwardness that appears permanent feature of the nation.
We mourn. We mouth our sadness. We vent our anger over the failures of our country. We stop there, unsure what to do next. That next step is critical and would make all the difference if our progress will match the high expectations of leading Africa.
Another mistake we make is to expect that if we fix aviation, disasters will evaporate. What happens to highways that claim lives daily, buildings that are collapsing and water ways without safety measures to stop boats from capsizing?
We have to think deeper as we mourn. Nigeria is a beautiful country ruined by its tenders with a recklessness that is beyond comprehension. Our mourning this time must break with the past by pursuing profound changes to save our people.
Source: Naija.ng